You have been asking for it....
We are posting our new schedule early due to high demand. Our Camps sold out prior to the end of the school year last year, so RSVP soon!
2021 Summer Camp Early Registration Schedule
Early Registration Camps:  9am-Noon $275/wk, or 9am-3pm with extended fun $300/wk
There is a 1-time registration fee of $25 for NEW STUDENTS who have not previously attended camps/study at the center.
Most students sign up for the extended day where they may continue to work on the daily activity or enjoy added team play with friends, Minecraft, Roblox, computer games, crafts, board-games, optional STEM activities, movies, and more!  
Free snack & drink is included in the extended day; however, Students must bring a lunch
Late registration after May 15th will be an additional $25
Read more
Comments are closed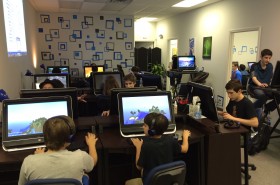 PARENTS NIGHT OUT
6:30-9:30pm  ... MOST Fridays
Advanced Registration is REQUIRED as we usually sell out (only 20 seats available)
$20 includes FUN, 2 slices of cheese PIZZA, Drink & Cookie
Ages 7+  Adult Supervised
Mindcraft, Roblox, and other fun video games. Every player has their own computer/seat at our LARGE touch screen computers!
To keep cost down- cash/check only for Game Night
Call 985-778-2828 
...